Robert Allen Garner, known as Bob, was accused raping a 15 year old girl, his gymnast in the late 80's and early 90's. He is still running his own gym, Garner's Gymnastics in Hixon, TN. Not only is he still coaching, but he is the
CONTACT PERSON
for the AAU State Championships, which will be held at his gym. Although he is on
USAG's permanently ineligible list
, he continues to coach in an AAU gym.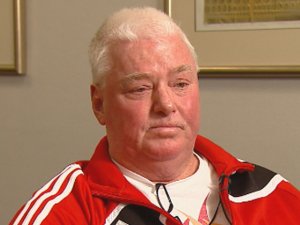 Over the past few years, more and more of these stories are coming out. Most recently, the story of Doug Boger was released. 40 and 50 year old survivors are sharing stories of
graphically violent attacks
that took place decades ago. Boger continued to coach until at least 2010, not because these women were unable to speak out, but because society and the gymnastics world didn't, and wouldn't support them. Doug was acquitted over 20 years earlier in 1982 on charges of Child Abuse when two girls came forward.
We have to support the survivors in the gymnastics community. We have to believe them when they come forward. And we have to refuse to support the men and women who hurt young gymnasts. I have little doubt that false allegations do occur, but would you rather make an unfortunate mistake that ruins a reputation, or leave your child, or any child for that matter in the care of someone violating him/her?
To stop this cycle, we have to step up, as both the gymnastics community and as a society.
(The crisis counselor in me is about to come out, so bear with me.)
If all of the recent allegations of sexual assaults in gyms have reinstated challenging feelings for you, talk to someone. A friend, a teammate, or call a hotline. Find someone to process with if this is challenging for you.