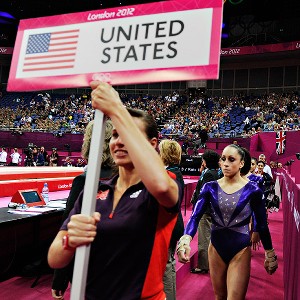 They did it! The USA Women's gymnastics team earned the gold medal today by over five points. Twelve nearly flawless performances clinched the gold for the exceptionally young team including literally the most beautiful vault I've ever seen. To watch the women hit routine after routine was incredibly satisfying. The Fierce Five were as fierce as ever.
Why is the US Succeeding? I personally like to think that it's our "melting pot" and "best of both worlds" structures that provide everything and the kitchen sink to the American athletes. The Women's US Olympic Gymnastics Team is coached by individuals from each of the top 4 gymnastics nations, if you consider the old USSR & Russia one and the same. Rather than having a distinct weakness like some other teams, the varied coaching styles present different strengths amongst Americans. For instance, Aly Raisman is coached by Romanian Mihai Brestyan seemed to inherit the nation's weakness on bars but their strengths on beam and floor. Kyla Ross, Gabby Douglas and US Alternate Anna Li have all been nurtured by Chinese Coaches and seem to prevail on bars. Of course, many coaches are present within a young gymnast's career and other factors influence success besides coaching, but I thought it was worth noting that the US relies on a melting pot environment to hone a strong team.
I do think that we all need to applaud Marta Karolyi. For all the slack that we as fans give Marta, we should realize that she does have some earthly idea what she's doing. The USA's never earned lower than silver at the Olympics under her direction and today they not only earned the gold, but it was by a fairly hefty margin. At the end of the day, Marta has the majority of the control over who makes the team and on which events they compete.
But of course, the real indisputable reason for the win was the USA's performances. When competing that level of difficulty that impressively, they were nearly uncatchable. The USA stayed solid while competing some of the most difficult routines in the world. Ultimately, THAT'S why they won. I've already heard many people saying, "Well, if the Russians would have hit, they'd have the gold." Not only is that irrelevant, it's also untrue. I did a little experiment wondering if Russia had the opportunity to take the higher scores between prelims and finals for each routine, if they could beat the USA's performances today. The numbers that are crossed out are Team Finals results replaced by qualifying scores.
Vault-
Komova- 15.833
Mustafina- 15.225
Paseka - 15.3 15.533
Bars-
Grishina - 14.7
Komova - 15.766 15.833
Mustafina - 15.7
Beam-
Komova - 15.033 15.266
Mustafina - 14.533 14.7
Afan - 14.833 15.066
Floor -
Grishina - 12.466 14.066
Mustafina - 14.8
Afan - 14.333 14.833
Russian Olympic High Score Total : 181.555
USA's Actual Team Total : 183.596
The bottom line is, it doesn't matter. The USA simply out performed Russia in both Prelims and Finals. Grishina & Afan's Floor Mistakes, Paseka's step on vault, as well as Komova and Mustafina's beam struggles were all frankly irrelevant. It wouldn't have mattered. It was the USA's competition to lose and they didn't budge.
It was an exciting event and until Grishina's floor mishaps, I wondered if the USA would falter and Russia would prevail. The pressure was on the USA's shoulders and they rose to the occasion.